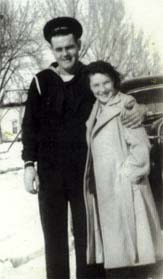 Richard and Maxine Robertson
February 1943
On July 23, 1944, Richard was severely injured while the BUSH exercised at general quarters. As the ship shifted from shore bombardment to anti-aircraft fire, a 5-inch projectile struck the ship's antenna spreader. The explosion killed five men and wounded a number of others, including Richard.
Richard recalls, "We were told to take a break from our stations in the forward boiler room. We went topside and were cooling off on the starboard side, main deck near the No. 1 stack and the forward torpedo tubes. I was with my buddy, Ray Lockhart, another Water Tender. When the accident happened, shrapnel from the blast nearly blew my left leg off, and also hit my face and left arm. My friend Ray was dead, having been hit in the head and upper body.
Captain Westholm came to visit me in the hospital after we got back to Pearl. I told him I'd finally gotten my transfer. He said, "Yeah, you got off, but you got off the hard way!" I spent a total of about 18 months recovering from the accident.