... P. A. Lilly, jr., Lieut., USN.
FIRST WATCH OF 1945
Hours 0000 to 0400
"Steaming as before''- - that we can't say.
A full log we must write on New Years day.
One January, nineteen hundred forty-five
And, frankly, we're lucky to be alive.
We're steaming back from old Mindoro
Where the "Kamikazis" are plenty thorough.
The mighty BUSH - - the fighting five two nine
Using boilers two and three on the line.
That furnished all the power we need
Eight and a half knots - - not very much speed.
For were not alone, we're heading the screen
For that convoy known as Uncle plus fifteen.
Course zero eight five, checking one zero two
The latter magnetic, the former is true.
Commander R. E. WESTHOLM, USN
Skippers us there - - and back again.
Eight cans form the screen
For old Uncle plus fifteen.
Twenty three LST's, a merchantman too
And one Army ship completes our screen
Now there are those who sing of "31 knot Burke"
But it is not for him that we do our work.
At one easy we labor with might and main
For "Four and a knot Captain McLean".
ComDesDiv forty eight (sometimes ninety, too)
And also commander of this TU.
Seventv eight dot three dot one five
Has been busy as bees in a hive
Forty five GQ's in the past five days
Rough on sleep but with the nips it pays.
We can hear him now - - "Flash Red, Control Green"
This message comes from Demerit Fif teen.
Thirty-nine planes have been the splash
While the five inch roar and the fortv's flash.
The jeep tells us that bogeys are near
The nips from the sun start into their dive
A message comes on the air from Austere
Sorry no CAP, savannah is five.
Rear Admiral Struble is seventy eight point three
For him we sailed the Sulu Sea.
He got his orders to operate
From Vice Admiral Barbey, CTF 78.
And over him is Com Seventh Fleet
Vice Admiral Kincaid, mighty hard to beat
And supreme in command, most resplendent by far
Is "Dug out the Doug" the mighty five star.
Now we head for San Pedro Bay
And the bogeys over Tacloban way.
Through patrol dog - - of Bush reknown
Where we shot those two planes down.
We've come pretty far in forty four
But we've got to go a whole lot more
The new years goal for which we strive
Is Tokyo in nineteen hundred forty five.
... N. P. Foss, Lt.(jg), USN.
---
"THE FIGHTING '29 WAS THERE"
On the 20th day of October, nineteen hundred and forty-four,
We landed our troops on the Philippine shore.
The day was mild and the planes flew high,
As they dropped their bombs from the Phillipine sky.
They came in numbers, three and four,
Maybe less and maybe more.
Some were shot down and some got away,
But no matter where they are, they will remember that day.
The task force was great, the USS NASHVILLE was there,
And so was the USS BUSH, she too, had her share.
The first day was calm and we were at ease,
The Filipinos were happy, for we had brought them peace.
At first it wasn't bad and we don't mean to tell,
But at dusk the first day, we began to catch hell.
When the Jap Fleet was approaching, our chance finally had come,
But we stayed with General MacArthur and missed out on the fun.
The General hit the shore, once more on Philippine soil,
And the USS BUSH was forgotten amidst the turmoil.
Then to "picket dutv" the USS BUSH was assigned,
To see if in Surigao Strait enemy subs she could find.
For three days and nights, the area was clear,
But on the 1st day of November, the general quarters gong we did hear.
Not very far off, several planes were in sight,
Some on the left and some on the right.
There were Bettys and Zekes, they came in fast,
And at the moment, we didn't know how long it would last.
It didn't last long, three hours in all,
And we came out alright, we were all on the ball.
The five-inch guns cut loose with everything they had,
Also, the 20's and 40's which didn't do so bad.
The Japs were astonished, by the roar and the blast,
"Tokyo Rose" called them machine guns, they were firing so fast.
We are proud of the Skipper, you could hear the crew say,
He maneuvered her nicely and thus saved the day.
He will be remembered as long as we live,
And for him any day, our best we would give.
We then returned to Manus Island for badly needed repairs,
But not very long did we get to stay there.
They needed the USS BUSH, they needed her aid,
To help bring to a finish the Philippine raid.
So now, in action we find ourselves once again,
We don't like it more than we did before.
And the USS BUSH may be torn, tattered and old,
But her life's history you will often hear told.
And, now off to Mindoro Island, her course straight and true,
Her decks stripped for action, her flag red, white and blue.
She escorted some fuel barges, and oh, what a ride!
The barges started to race and wounded her pride.
The "snipes" did their best, to help save her face,
But, the tug boats kept chugging and held a steady pace.
At the speed of five knots the USS BUSH is now in the lead,
And she shall get there first, although an overhaul she does need.
And now, as on to Victory we go,
We will move on ahead meeting our foe.
For no other duty would we ever trade,
Until we have finished the Philippine Raid.
... Crew of the No. 5 Handling Room.
---
"Bush DD529 Sixth of April 1945 Sea Air Battle Picket #1"

Was just the Sixth of April in the Old East China Sea.
We were all at Battle Stations to ward off the Enemy.
We fired many Salvoes from our five inch thirty eights,
This sent our little Nippon Pals to their deserved fates.
Their Kamikaze tactics although not in vain
Gave us just one more reason, to fight on and on again.
They dove their bomb filled airplanes into our ship at will.
This silenced our main battery they came in for the kill.

We battled fire for hours it seemed, and tried to save our ship.
Three or Four Kamikazes had hit us, and we knew we lost our grip.
We lowered the wounded into the rafts below.
The sea was rough and very cold it added to our trouble.
The ship was aflame both fore and aft, just a hour of ruin and rubble.

As flames and explosions destroyed her, she split in half like a V.
To us who looked back at her this was an Omen of Victory.
Those who had died aboard her, went down to a Sailors Grave.
We'll be mourning them the rest of our lives, for Victory, their Lives They Gave.
I know all the boys in the Navy who remember the (5) Fever (2) Deuce (9) Nina
Might be fighting in the water round Korea,
And they're doing it to keep the world cleaner.

WE ABANDONED SHIP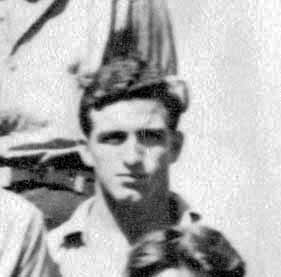 ... Gunner's Mate Third Class Harry L. Mendell