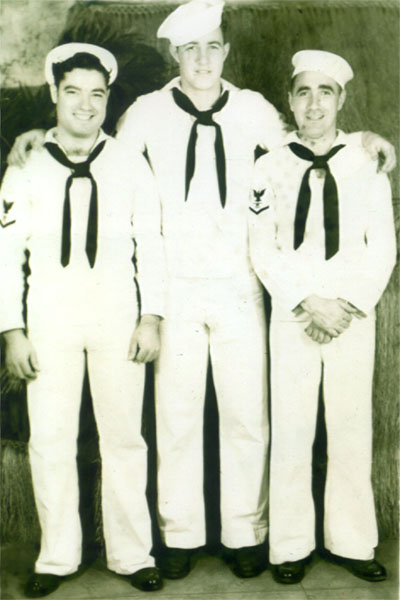 USS Bush Fire Controlmen
Coy Phillips, J. M. Cross, Norman Handy-1944
With Two Shipmates
Taken in 1944, the picture at left shows J. M. Cross (in the center) with two other USS Bush Fire Controlmen. On the left is Coy W. Phillips, FC3c, and on the right is George N. "Norm" Handy, FC3c. Like J. M., both of these men were part of the commissioning crew.
Coy Phillips would remain aboard reaching a rating of Fire Controlman 1st Class. At 23 years of age, Phillips, like J. M. Cross, was lost with his ship. On April 6, 1945 his battle station is thought to have been in the main battery director above the bridge. From Florence, Alabama, Phillips was one of five brothers serving in the military during World War II. He and another brother would not return home.
Norm Handy was detached from the ship on Janury 31, 1945 while the Bush was moored at Ulithi. Handy was born in London, England and had a cockney accent. He was one of the oldest enlisted men aboard ship, leaving the ship at age 41 or so.