USS BUSH (DD 529)
Moses G. Hubbard, III - Lt. (jg)
Assistant Gunnery Officer
---
Back to Photos List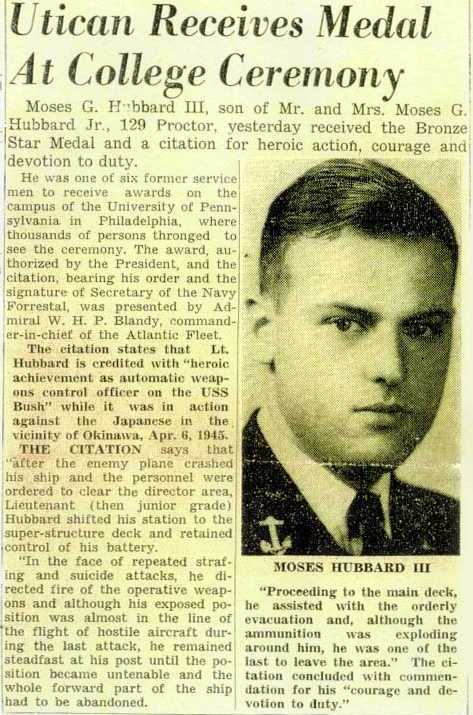 Above, the May 26, 1947 evening edition of the Utica Observer-Dispatch recalls the actions of Assistant Gunnery Officer Moses G. Hubbard, III - Lt. (jg) and his receipt of the Bronze Star. As a young Ensign, Moses Hubbard was part of the original contingent of officers first assigned to the USS Bush. As the newspaper article notes, Moses received the Bronze Star for his "courage and devotion to duty" during the ship's last stand on April 6, 1945. After the first plane struck the ship, 5-inch gun operations were suspended. Moses left his station in the 5-inch gun director above the bridge. Using local directors, he remained forward on the ship helping to manually direct fire of the two forward 40MM guns.


Moses G. Hubbard, III - Aboard the USS Bush

As the third and final plane to crash the ship approached, Moses remained at his station even though the crash would be at or near his position. Afterwards, as the ship was being abandoned, Moses Hubbard worked with another sailor to help a Bosun's Mate 1st Class named Wesley Northey. One of Northey's legs was badly fractured when the last plane struck the ship. Recalled his shipmate, Ed Bennett (Coxswain), "Lt. Hubbard and I grabbed Northey. We got some damage control materials to help keep Northey afloat, and Hubbard gave Northey his lifejacket. We lowered him into the water."
Eventually leaving the ship himself, Moses would spend 9 or so "cold" hours in the water, clinging to a floater net, until eventually rescued with more than 30 other shipmates by the USS PAKANA (ATF-108).
---
Home ||Short History ||Deck Logs ||Final Action Reports ||Photos

||Recollections ||Ship's Poetry ||Sailors Lost ||Fletchers ||Glossary ||Links