USS BUSH (DD 529)
"Gene Younce - RM3c"
Back to Photos List
---
Gene Younce reported aboard the USS Bush on July 2, 1943 - a new sailor and rated Seaman 2nd Class. He was one of 20 new sailors reporting to the USS Bush that day at Treasure Island in the San Francisco Bay area.

Gene became part of the ship's Communications Division serving as one of the ship's radiomen. While aboard ship, his best friend was John M. Corbett, Jr., another radioman. John was also a brand new sailor when he reported aboard the Bush on her commissioning date, May 10, 1943.

Gene says the radio gang was successful in getting fresh baked bread from the ship's bakers on a number of occasions. Gene was sometimes called "Fatty" by his shipmates.




Gene Younce - RM3c




Left to Right:
John Corbett, Jr. - RM2c and Gene Younce - RM3c

Gene's combat station was as a loader on the #43 gun. The #43 gun is the starboard side twin 40MM gun located right next to the #2 smoke stack. At the time of the USS Bush sinking, Gene was still aboard and rated Radioman 3rd Class. On April 6, 1945 the first kamkikaze to strike the ship hit below the main deck and above the water line, right between the #1 and #2 stacks and right next to the #43 gun.

Fortunately Gene would survive April 6th (as did his friend John Corbett). Gene remembers that as the plane was flying low across the water, he concentrated on his job assignment - putting clips of four 40MM shells into #43 gun. As he would put a clip in and turn to get another, he had time to see the face of the Japanese pilot as the plane approached the ship.
After returning to the States, Gene found himself with a duty assignment in San Diego. In San Diego, the Navy expected Gene to take and pass a swimming test. Gene was a lousy swimmer. He was told he'd not be given liberty if he couldn't pass his test. Former USS Bush torpedoman Russ Youngren was also present. Russ pretended to be Gene and took the test for him, passing the test after making it look like a tough swim! Their trick worked and Gene joined is buddies for liberty!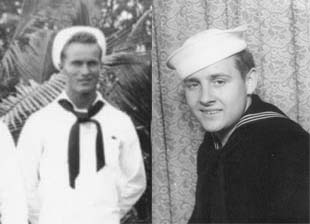 Left to Right:
Russ Youngren - TM3c, the "Younce" imposter but good swimmer and actor
Gene Younce - RM3c, the real deal and grateful for liberty!
---
Home ||Short History ||Deck Logs ||Final Action Reports ||Photos

||Recollections ||Ship's Poetry ||Sailors Lost ||Fletchers ||Glossary ||Links