Miles S. Burke, StM2c, reported aboard the USS Bush on May 26, 1944. In the segregated U. S. Navy of World War II, African American men like Miles Burke all had general duties as Steward's Mates or Officers Cooks when serving aboard ship. They were part of the Supply Division, reporting through the ship's Supply Officer. Their job was to attend to the officer's billets (quarters) and mess (dining in the wardroom).
Miles Burke, was a big, strong man - with a lot of heart. His battle station was below deck, as part of the #5 5-inch gun handling room team. It was Burke who hoisted the heavy projectiles from one of the ship's 5-inch magazines to those in the handling room.
Robert Aguilar, SKD2c, was in-charge of that handling room crew and he remembers Burke well. Aguilar says of Burke, "He had all the physical attributes to make him the perfect individual for the job. In addition, he had the mental, emotional and moral strength to handle the situations we got into without breaking down when we needed him the most. It was obvious that he was more valuable to us than he was to the crews that had the mechanical hoists from the magazine to the handling room. He never complained the about the hard work; he worked all alone; and I don't remember Miles asking to be relieved even for a short period of time." Aguilar goes on to note, "What a sight to see that big muscle-bound body, shiny with perspiration, stay on the job like he did that day in Surigao Strait when we were under air attack for several hours and the temperature got like an oven in the handling room area."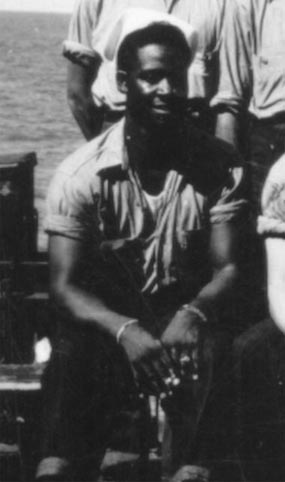 Miles S. Burke - StM2c - 1945
On April 6, 1945, after his ship had been struck by the first of three suicide planes and his battle station vacated, Burke's strength of body and character went into action. Says Aguilar, "When we were called to come topside, I had a hard time convincing him that the order meant him also, he did not want to leave his post."
Once topside, former Assistant Gunnery Officer Hilliard Lubin, Lt.(jg) had this to say about Burke, "I do remember .... his actions going down into the afire engine spaces at least 3 or 4 times to bring up one burned snipe each time. I can still see his bloody feet, but then shoeless. Being as big as he was, and deck hatches down to engine spaces as small as they were, how he got through I find hard to imagine now."
Commander Westholm, the Commanding Officer of the USS Bush, recommended that Burke receive the Navy and Marine Corps Medal and the medal was so awarded. This medal, instituted in 1942, is for lifesaving heroism at great risk to one's own life. In Commander Westholm's letter of recommendation, he observed the following regarding Burke's actions: