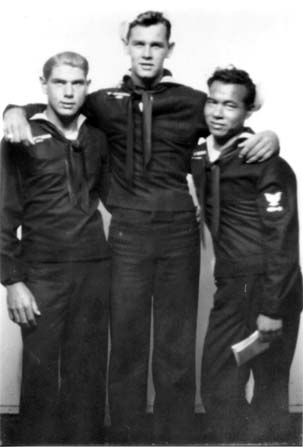 The tall man in the center of the picture is Clarence "Art" Woolfolk, TM3c. The man on the right is another 3rd Class Torpedoman's Mate, Thomas Soo Hoo. Ed Bennett-Cox is the man on the left.
Art and Thomas both reported aboard the USS BUSH on her commissioning date, each with a rating of Seaman 2nd Class. Ed reported aboard September 9, 1944 with a little help from his cousin, the Chief Torpedoman's Mate, and spent a fair amount time hanging out at the torpedo shack. All three survived the loss of BUSH. The picture was taken in the spring of 1945 after their safe return home.
While awaiting rescue after the BUSH sinking, Art found himself clinging to a raft that had some K-rations attached. He opened one can with a knife that contained malted tablets. "Always hated malt tablets, but they sure tasted good then", recalled Art more than 50 years later.
After his rescue, the Navy sent Art to school. Part of the training included learning how to abandon ship. Art pointed out, "the training is a bit late, I've already done it ... the hard way!"